What's New
New Mobile App Available
Holley Credit Union has a free app that is available in the app store and works with Apple and Android platforms as well as all tablet platforms. The mobile app provides links to current rates, branch locations and directions, Push notifications associated with the app allow you to get important news messages from the credit union. The app can be downloaded for free in your phones app store or by using the links below.



---
Virtual Branch Upgraded
Effective on February 20th, 2014 Virtual Branch has been upgraded to increase your security. The first time you log on you will have to migrate through a series of questions and enter your own phrase to complete the process.
---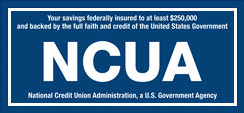 Notice of Changes in Temporary NCUA Insurance Coverage for Transaction Accounts
By operation of federal law beginning Janurary 1st, 2013 funds deposited in a noninterest bearing transaction account no longer will receive unlimited deposit insurance converage by the Nation Credit Union Administration. Beginning January 1st, 2013, all of a depositor's accounts will be insured by the NCUA up to the standard maximum deposit insurance amount ($250,000), for each deposit insurance ownership category. For more information visit http://www.ncua.gov.
---